Calendar and productivity apps
Connect your calendar to Glance Clock and see your day's schedule colorfully represented on the clock face. Get prompt reminders about meetings, events from your mailbox, and important dates (e.g. your mom's birthday).

Google Calendar and Apple Calendar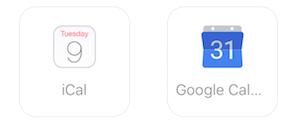 Incoming calls and even UBER*
During your busy day, Glance Clock will gently alert you of incoming calls, and UBER* rides. This sleek device will even show you who is calling, and let you color-code your contacts so you can recognize who's on the line – at a glance.

Apple Phone app, UBER app (* UBER will be available in 2019)
How many times have you left the house and later noticed those rain clouds rolling in? With Glance Clock you'll never get caught in bad weather. Stay up to date on the current temperature and humidity as your Glance Clock displays weather updates throughout the day.
All data is provided by OpenWeather service
With Glance Clock you'll never miss that gorgeous sunrise! No matter your schedule, Glance will wake you up just in time. You can set alarms to help you coordinate with people in different time zones, to see the sunset, or stay in tune with prayer times.
Glance Clock contains an amazing visual interface that can show you just about anything. However, if you can't find the feature you're looking for, then you can create your own using open APIs. Add more value to Glance through IFTTT recipes. Check available recipes at our channel.